California is such an amazing state with so many places to visit and sights to see! We reached out to several of our website fans and asked them to share some of their favorite places in California to go and shoot and they helped us come up with this:
IMPORTANT TIP! Since publishing this article, we created the ULTIMATE tool for planning a photography trip to California.  It's called Really Good Photo Spots.  It's a free iPhone and iPad app with THOUSANDS of the best photo locations in the world all in one app, and California is especially well-covered.  It's really convenient for travel photography because you can just tap "Spots near me" and BOOM! It lists all the best spots to take pictures near you.  Download really Good Photo Spots for the iPhone or iPad right here.
Region One – Shasta Cascade
1. Mount Shasta
Mt. Shasta has been the spiritual retreat for many people. Tour guides help you explore Mt. Shasta and take in all that this beautiful mountain has to offer.
2. Trinity Alps
In this area are several mountain ranges and lakes. There are a lot of great opportunities for some nice landscape photos, as well as some wholesome recreational fun. Try to go to some of the other nearby lakes while you are up here and see what you can find to photograph. Remember: when going into the mountains to photograph, there are varying sunrise and sunset times because of the mountain ridges.
Region Two – Northern Coast
3. The Redwoods
One of the fans suggested that you start at the Northwest end of the park and work your way south. This national forest is known for its extremely large trees – big enough for a car to drive through the trunk! If anything, it's a marvel and wonder to take in.
4. Eureka
This town has a strong Victorian architectural influence throughout the city. It is the largest coastal city north of San Francisco. Many of the buildings have been restored to preserve the history of the area. One of the most famous buildings in town is the
Carson Mansion
. The city is also known for its fishing and boating, as those are the main sources of Eureka's livelihood.
5. Patrick's Point State Park
With sheer ocean cliffs and coastal forests, this state park is about 25 miles north of Eureka. There are a lot of recreational areas for bikers, hikers, and campers. Enable Panoramio mode in Google Maps to see some of the photos taken around that area. This will give you some good ideas of what's around and roughly where you can find it.
Region Three – Central Valley
6. Nevada City
This is a small historic town with a population of about 3,000 people. Coming from anywhere in the United States, this will most certainly feel small to you. The old western and historic feel will give you some interesting things to photograph while you're here. There is the downtown area or the many rivers and streams running throughout to keep your interest. Nevada City would be a great place to do a set of portraits and use the city as a quiet, but very real, backdrop. Nevada City is about 30 miles north of Sacramento, CA.
7. Empire Mine State Park
This mining town was in operation until 1956. Now owned by the California State Parks, this town has been preserved because of its historical beauty. There are several locations out of the mine that you might find rather interesting. With a creative perspective and the right time of day, you could get a killer photo that represents the town well. It might be the perfect excuse for some nice portraits. Empire Mine State Park is just 24 miles north of Auburn, CA, which is just northwest of Sacramento, CA.
Region Four – Bay Area
8. Point Reyes/Tomales Bay
The Monterey Cypress Tree Tunnel is a sight to see and the views from Mt. Vision can be breathtaking. Landscape photographers will find a little bit of heaven here and any portrait photographer will have a great time in the tree tunnel. The sunset hour along this coastal land is nothing short of spectacular once that warm light shows up on everything. To get an idea for photos in this area, turn on Panoramio in Google Maps to see a few photos show up – especially of the tree tunnel.
9. Treasure Island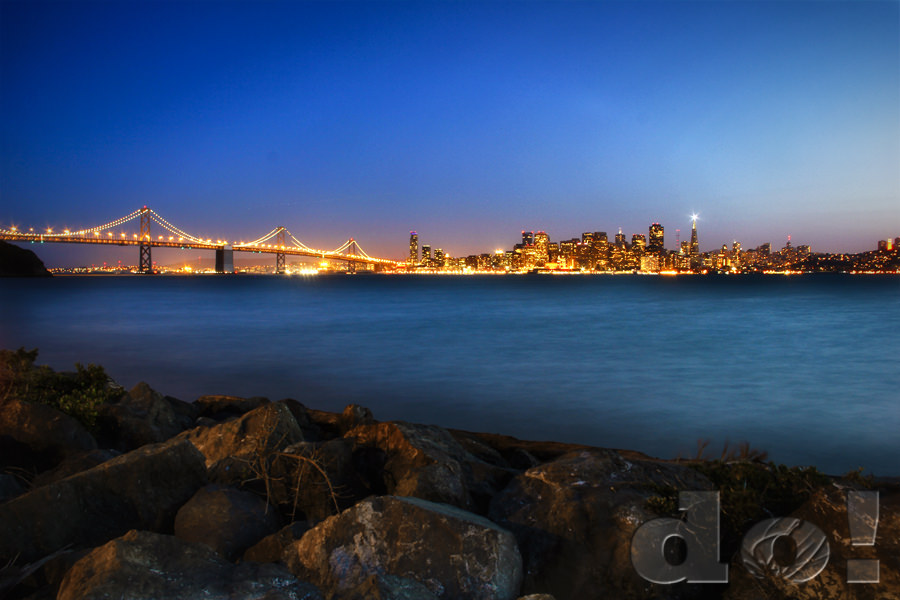 This man-made island had a strong military influence at one time but is now being renovated to become a thriving residential area of San Francisco. From the west side of the island, you will see a breathtaking view of the San Francisco Skyline (The Bay Bridge, Downtown SF, and the Golden Gate Bridge). Taking a panorama of this view is the only way to accurately describe the view to anyone who has never seen it. But be sure you have a solid tripod, because the breeze off the water is strong enough to shake your camera…
especially
if you're doing night photos of the city.
10. San Francisco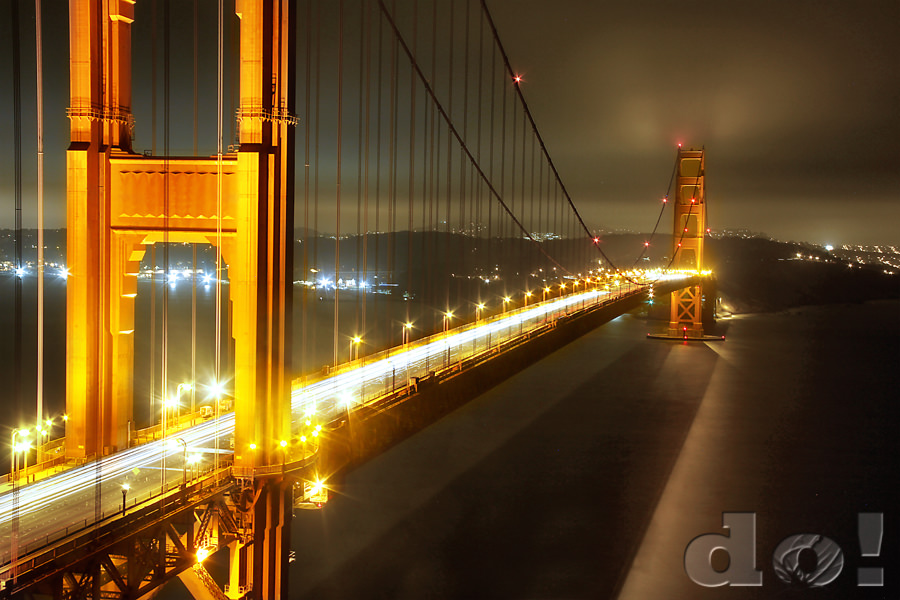 There are so many different places you can go to photograph! In reality, there could be an entire separate post on just San Francisco and the ways you can keep yourself occupied while you're here. A few of the tourist highlights and photographer's adventures would be the Golden Gate Bridge from the Sausalito side at Vista Point, the many piers all along the coast, and the cable cars. On your way to the Transamerica building on Columbus Street at Kearny, stand
right
in the middle of the street to get a really great shot. If you find yourself in Golden Gate Park, there are a few gardens there that might catch your eye for trying out some flower photography.
11. Marin Headlands
Still on the Sausalito side… There is so much you can shoot over there, from bunkers to Rodeo Beach, Bonito Cove, and even a lighthouse on the point. The video above shows the scenic drive and hopefully gives you an idea of what you can do while you're there.
12. Natural Bridges State park
This is another great place if you're looking for some coastal photos. The best time to come and take photos here is right at sunset or when there are storm clouds in the sky. Having an interesting sky will be extremely important for these photos. The best way to get a sense of what else can be photographed in this area is to look on Google maps with photos enabled. There are a few that people have shared that are really cool. Also – doing a Google Image search for this area will give you an idea of what other people have done.
13. Santa Cruz Boardwalk
The Boardwalk is a theme park on the coast. You can have fun there, but don't forget to get some night photos of this place. Some of the better shots to be had are the ones from the water where you see a reflection of the park with all the lights and everything going on. You could try to enter the park and take photos in there as well, but be sure to check the regulations on photography in the park. Places with a lot of foot traffic usually ban the use of tripods because they pose a tripping hazard. Consider a monopod and you should be just fine.
Region Five – High Sierras
14. Bridgeport
There is a little hidden gem up in this high desert. The Travertine Hot Springs are really neat! With the right sky and time of day, you can get a great shot! Check out the photo that
Kristal Leonard
took while in the area.
15. Mono Lake
Becauses of the dramatic change in the ecosystem at this lake, along with the 25 foot drop in water level, there are some pretty amazing coral formations that stick up out of the water. It's very interesting to see these formations, and would give you a photo that is both captivating and unique.
16. Bodie Ghost Town
This ghost town is between Bridgeport and Mono Lake. If you have never been to a ghost town, this might be worth the trip if you are in the area. It's unlikely that you'll see a ghost (unless you're lucky), but photographing old junk and buildings can be a lot of fun! You will find artifacts that no longer exist anymore in our day-to-day lives. Apart from the many different photos you can take while you're here, this could be a good location to stage some western photos or different portraits than what you normally see these days.
17. Ebbetts Pass
This less-than-popular pass through the High Sierras might be a nice place to find some photos and a quiet place all to yourself. The road through this pass is narrower than 2 lanes and is very steep with hairpin turns at points. Be careful, but have a lot of fun discovering Ebbetts Pass. To see some photos and other information about the area,
CLICK HERE
.
18. Yosemite
You could spend days here in the Yosemite area – it is absolutely stunning!
Kristal Leonard
has taken some amazing photos throughout Yosemite and the High Sierras that are just beautiful. She has traveled to several locations but many of her photos are focused in Yosemite. There are so many different types of landscape shots you can find and create. Find someone who has been to the area who can show you around or give you tips on having the best experience you can while you're out there. You really won't want to miss this one.
19. Lake Tahoe
Lake Tahoe is such a stunning place. Year round there will certainly be a photo worth taking, as well as many outdoor activities that you can do. The water is amazingly clear in the summer as well as the winter. If you can handle the cold, there are some great winter photographs to be made that will be unlike anything you'll get in the summer. While you are at Lake Tahoe, be sure to check out Bonsai Rock. There have been a lot of photos taken here (you can see several on
Google Images
) but I would challenge you to take a photo that is unique and just a little bit different from all the others. I can't tell you what that is, but if you're creative… you'll find the answer.
20. Mammoth Lakes
Mammoth is really close to several places in the High Sierras of California. There are majestic landscapes and great waterfalls to captivate anyone who goes here. This is a video to show you around and give you a decent idea of what it looks like there.
Region Six – Central Coast
21. Big Sur
Right off the coast you will see some really spectacular sights. From the Santa Lucia Mountains rising right off the coast to the enormous California Redwoods in the forest to the gorgeous sunsets on the beach: you will find something breathtaking to see when you're in the central coast area. There is a lot of surfing going on here and plenty of nice hotels to stay at.
22. Hearst Castle
This larger-than-life castle has such amazing architecture that it seems unreal that a person would build this as his home. With 165 rooms and 127 acres of room to stretch out, this was built with the intent of showing off Hearst's collections. You can go on a tour for $25/adult and see certain areas of the castle. Be sure to bring your favorite monopod when you come here because tripods are not permitted anywhere on location. Photography is encouraged for personal use. However, if you wish to use it for commercial use, you must contact the state of California for approval. For more information on the rules for photographing,
CLICK HERE
. The best way to get an idea of what you will see when you get there is to look at these
Google Images
.
23. Cambria
This is a small little town on the central coast of California that comes with a lot of personality and spunk! You will be able to photograph all the little things that make Cambria unique and such a great place to visit.
24. Santa Barbara
This is a great place to come if you're looking for more architecture photos. A lot of the buildings have Spanish influence with lots of unique features throughout the city.
25. Monterey
You will get some great landscapes here, but the aquarium in Monterey is out of this world! You can get up close and personal with some of the world's most exotic tropical fish. If you're lucky, when you head down to the ocean you will see the whales swimming around and pretty much posing for you so that you can get some great shots!
26. Carmel
If you are looking for unique street photography photos, this is where you want to be. The buildings are so unique just by themselves that anything else you find to photograph will be icing on the cake. Really close to Carmel is Big Sur (mentioned above). In the surrounding area, there will be plenty to keep you occupied when you start taking photos.
Region Seven – Desert
27. Death Valley
This is one barren desert here in California. If you can stand the heat, you will most certainly get a different kind of photo here. Just be sure to take plenty of water and gasoline before making this day trip. The one thing that will make any of the photos you take here more interesting is a good foreground to go with it. Adding that sort of interest is very important – otherwise you simply have a boring photo that even
looks
hot.
Region Eight – Southern Coast
28. Palos Verdes
The hot spots to visit while you're here are Abalone Cove, Wafarers Chapel, Point Vicente Lighthouse, and Terranea Resort.
29. Griffith Park Observatory
Overlooking downtown L.A. – and right next Hollywood – this is an awesome place to get some great night shots of the city and even see the stars.
30. Balboa Park in San Diego
Balboa Park is a historic park with lots of museums and gardens where you will find something for everyone. Just walking around will give you the chance to find something amazing to photograph in a calm, low-stress environment.
31. Santa Monica Pier
If the Santa Monica Pier is close to you then you might want to try your hand at some night photography here. Lights from the theme park, water, reflections… with a little sunset lighting this could be the photo worth having. Especially if there are great memories here on the pier.
32. Disney Concert Hall
This is an architectural masterpiece: incredibly unique in so many ways with a lot of attention given to the little things to compliment the surrounding buildings and city. Photographing the outside alone would give you several photos that fall in the abstract genre of photography. There are so many different angles and perspectives that can be achieved while you're here that I hope you're keeping an open eye and looking for the different ways that this place can be photographed.
33. Windansea Beach in La Jolla
This beach has a lot of marine life pretty close to the shore. If you have an underwater housing for your camera, you then might want to try getting some photos under the water.
34. Hidden San Diego
There is a website that is dedicated to finding new hidden places around San Diego. Some are great for photographers and certainly places to add to your travel plans. Others are simple things that were discovered that have no value other than "it's new" and not many people know about it. Check out
http://www.hiddensandiego.net/
Through this site, I came across a few cool places that have landed themselves on my list of places to visit.
35. Sea Caves
There are several sea caves that you will be able to find along the many coasts and shores of California. The more popular ones are on the southern beaches around San Diego and La Jolla.
Read this PDF on Sea Caves
to learn more about the caves, where you find them, and see some photos.
Catholic Missions of California
From the Bay Area all the way down to the southern most part of California, you will find these Catholic Missions – churches that were constructed for the purpose of worship and commerce. Today, you can still visit these missions and tour them. But when you arrive, you will soon find out that many are still in use for what they were originally intended for: worship. If you are around one, you might find them interesting to visit and even photograph as they will have taken great care to make these places inviting and a reminder of the time in which they were built.
California Mission Order and Date Founded
1 San Diego de Alcalá
July 16, 1769 by Father Junipero Serra
2 San Carlos Borromeo de Carmelo
June 3, 1770 by Father Junipero Serra
3 San Antonio de Padua
July 14, 1771 by Father Junipero Serra
4 San Gabriel Arcángel
September 8, 1771 by Father Pedro Cambon and Father Angel Somera
5 San Luis Obispo de Tolosa
September 1, 1772 by Father Junipero Serra
6 San Francisco de Asís (Mission Dolores)
June 26, 1776 by Father Francisco Palóu
7 San Juan Capistrano
November 1, 1776 by Father Junipero Serra
8 Santa Clara de Asís
January 12, 1777 by Father Junipero Serra
9 San Buenaventura
March 31, 1782 by Father Junipero Serra
10 Santa Barbara
December 4, 1786 by Father Fermin Lasuen
11 La Purísima Concepción
December 8, 1787 by Father Fermin Lasuen
12 Santa Cruz
August 28, 1791 by Father Fermin Lasuen
13 Nuestra Señora de la Soledad
October 9, 1791 by Father Fermin Lasuen
14 San José
July 11, 1797 by Father Fermin Lasuen
15 San Juan Bautista
June 24, 1797 by Father Fermin Lasuen
16 San Miguel Arcángel
July 25, 1797 by Father Fermin Lasuen
17 San Fernando Rey de España
September 8, 1797 by Father Fermin Lasuen
18 San Luis Rey de Francia
June 13, 1798 by Father Fermin Lasuen
19 Santa Inés
September 17, 1804 by Father Estevan Tapis
20 San Rafael Arcángel
December 14, 1817 by Father Vicente de Sarria
21 San Francisco Solano
July 4, 1823 by Father Jose Altimira