This week's theme is compositing, a Photoshop technique where you take multiple pictures and combine them together to make a single composition.
We decided to do a composite duel this week our NEW Photoshop 1, Photoshop 2, and Photoshop Elements online classes are starting on Wednesday!  We've been working night and day on those classes for weeks now, so it has us thinking about Photoshop a lot 🙂
If you'd like to learn some of the tips we use when shooting panoramas, be sure to check out this post.
New to the weekly Improve Photography Duel?  Check out this page, where we explain how it works. We're asking YOU to vote on the photos below.
Settling the Score
Jim was the winner of last week's duel, so the current score is Jim: 1, Dustin: 1, and one tie.
Here are the photos for this week's compositing duel…
Jim Here:  I've never been much of a dancer, but dancing makes for a very dramatic pose for shooting couples.  We had a model come in for this shoot and Dustin was happy (very happy) to step in as a model as well.  After all, it got him close to a pretty girl during the shoot instead of moving around light stands for me 🙂
Jim's Process:  I shot the photo of Dustin and the girl in our studio.  I used a three light setup.  I wanted the light to be very dramatic, so I put two strip banks on either side of the models and just a little bit behind them.  The purpose of these lights was to provide some edge lighting.  Then, I used a LARGE octabank on a c-stand above them so that the shadows would come down on them.  I used Einstein studio strobes for this shoot and shot on a black background so that the extraction would be easy since I knew I wanted to put this photo on a dark background.
The background for this shoot was actually taken in the basement of our old studio in Caldwell, Idaho.  The building was an old bank, so you see the two vault doors in this shot.  I used a light painting technique to create unique lighting in the room.  I chose to use this background because I wanted to make the story of the photo be that the couple is totally wrapped up in each other–even while dancing in a spiderweb infested dungeon.
In Photoshop, I brought the two files in as layers and I simply masked the photo of the couple onto the background.  Then, I painted red over the girl's dress and changed the blending mode to color so that it would be a bit more eye-catching.  You can see the original two photos I used in this composite here.
Jim's Metadata:
Background shot – Shutter speed: 30 seconds, ISO 100, f/11.  Portrait shot – Shutter speed: 1/200, f/9, ISO 100.
Camera: Nikon D800, Lens: Nikkor 24-70mm f/2.8.
Lighting: Einstein studio strobes for the couple and an Inova Bolt flashlight for the lightpainting on the background.
Dustin Here: Working on this photo composite really pushed my skill in Photoshop. I spent around 15 hours (I don't know where I found the time!) of coming up with the idea and allowing it to evolve into what it is now. Coming up with the idea was difficult because I didn't know what the direction was I wanted to head in with it. So I looked through my photo library and just pulled out a bunch of photos that I thought would work for a composite. As I started putting everything together is when I decided what new photos I would need to make the rest of the composite work.
I know that this composite might be too edgy for some, or completely degrade the moral premise of having a road going under the Golden Gate Bridge, but I ask you to consider and appreciate an artistic difference.
Dustin's Process: It's one thing to place images on top of one another – but it's a whole other challenge to make them work together. There were several things I paid attention to when creating this composite:
1. Adding storm clouds
2. Adding rain to enhance the mood of the scene
3. Making the road look wet with puddles
4. Having the rain be visible in only the lit areas
5. Making sure there were people interacting
6. Contrast in lighting, colors, and mood.
I used basic Photoshop techniques (such as: adjustment layers, masking, selecting, filters, etc). These techniques are taught in the Photoshop 2 class if you're interested in learning more.
I'm also interested in knowing what you think the story is in this composite.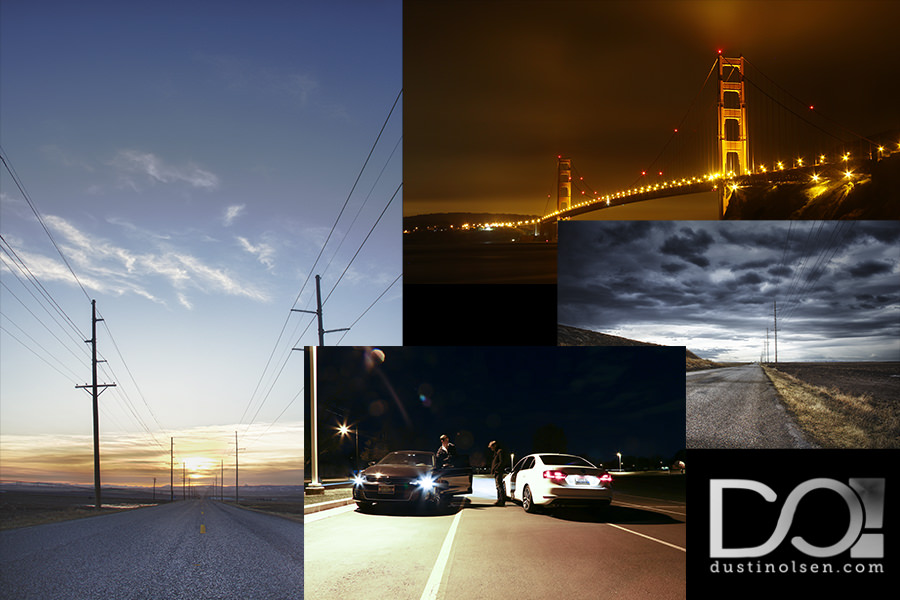 Dustin's Metadata:
4 Base Images
Image Locations: San Francisco, CA – Rexburg, ID – Boise, ID
You can see the original images I used posted on my blog.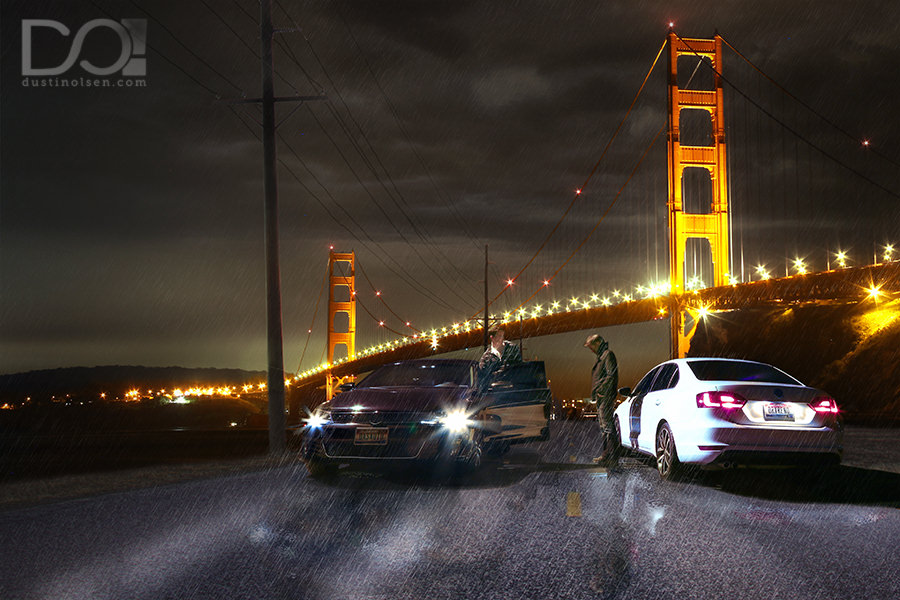 Let the Voting Begin!
Please note that you do NOT have to share this to your Facebook page or Twitter feed in order to vote.  It just gives you that as an option after you've clicked your vote.