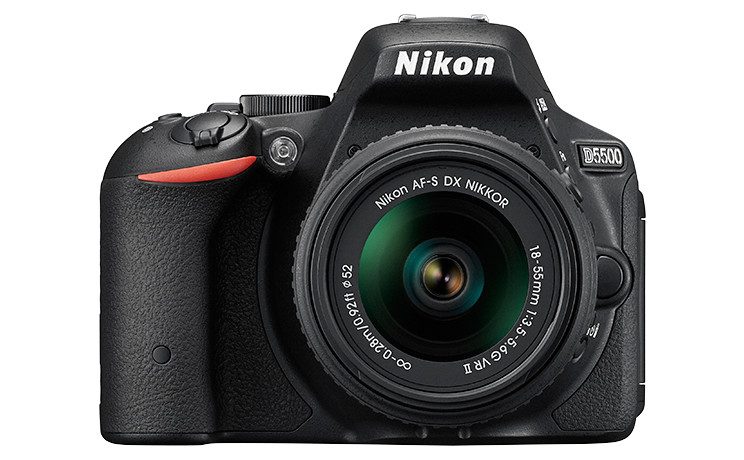 On January 6th, 2015, Nikon announced the newest addition to it's DX (crop sensor) lineup – the D5500.  It replaces the D5300 (why did they skip 5400?) body and shares much of the same technology: 24mp sensor, EXPEED 4 processor, 3.2″ LCD screen, SD memory card slots (SD, SDHC, SDXC), and 5 frames per second burst shooting (JPEG).  You can check out a more detailed specifications comparison over at
nikonrumors.com
. There are some key differences between the older D5300 and the new D5500.  You can see the full press release
here
, but these are the main points:
Touch Screen
This is the first camera body where Nikon has added touch to the LCD screen on the back of the camera.  Canon did this with their crop sensor T5i model, but this is the first time Nikon has introduced the feature.  Here is how Nikon put it in their press release:
The D5500 is the first Nikon digital SLR camera for which a touch-screen interface has been adopted. This enables simple and intuitive operation by those who frequently use smart devices. It is equipped with a large and wide, 3.2-inch, approximately 1037K-dot TFT LCD vari-angle monitor with wide viewing angle. In addition to preserving more than sufficient visibility, the side-hinged vari-angle monitor opens up to 180° to the left, and can be rotated up to 90° clockwise, or up to 180° counter-clockwise while it is open. This ensures flexible shooting from a wide variety of angles, whether low or high, and even when capturing self portraits.
For many beginning photographers this seems like a feature that will make things easier for them as it will be more familiar to users who have used smartphones for taking photos – a very large group of people.  It is also nice that the screen articulates (can be swiveled away from the body and moved at different angles), although that was also there on the D5300.
WiFi
Although not a first for Nikon, it is a nice thing to have built into a camera body.  Jim and Darin have wondered on the podcast a few times why it is that there aren't better quality touch screens and WiFi features more comparable to a smartphone being built into Nikon and Canon camera bodies.  Now here is one from Nikon with both.  Here is what Nikon had in the press release:
The built-in Wi-Fi® function makes two-way wireless communications with smart devices such as smartphones and tablets possible. Full-scale photographic works (still images) captured with this digital SLR camera can be uploaded to a smart device from which they can be transferred or shared on SNSs via the Internet. In addition, the live view screen can be displayed on a smart device, enabling use of the smart device for a variety of applications, including capture of self portraits and group photos, as well as remote photography.
Slightly Smaller
The last of the "features" of this newly announced camera body is that it is slightly smaller than it's predecessor.  Nikon claims it to be the worlds smallest, lightest DSLR.  From the specs alone it is a little hard to tell how it compares with Canon's SL1 body that has also claimed to be the world's smallest.  Either way, compared with a mirrorless or micro 4/3 camera body it is still pretty large.  Here is the quote from the press release:
A monocoque structure, with which the exterior serves as a frame that protects the internal structure with great strength, has been adopted for the D5500. Use of a carbon-fiber composite material for the front body, where important mechanisms such as the imaging unit are incorporated, and the front and rear covers not only ensures a light weight, but also preserves great strength and durability. In addition, positioning of the integrated circuit board, on which electronic components are mounted, and the imaging unit in nearly the same place, as well as optimization of drive unit positioning have helped to make the camera significantly slimmer. This, in turn, has enabled a deeper grip that provides a firmer, steadier hold on the camera, making it more portable and easier to handle.
Is It For You?
If you are a beginning photographer who has decided to get a bit more serious about photography than you can get from a smartphone or point-and-shoot, and Nikon is your chosen brand (check out my article
here
on how a beginner should decide), the D5500 is a great choice.  Although it has a DX (crop sensor) sensor, image quality will be awesome with 24 megapixels (the sensor is the strongest feature of Nikon cameras).  The WiFi and touch screen features are also great to have for all types of photographers.  But is that enough to make someone upgrade from the D5300 to the D5500?  Probably not. The announcement doesn't seem to have made as big a wave with Nikon fans as Canon made with their new 7D Mark II crop sensor body with Canon fans.  This isn't an article comparing the two cameras, but I have already seen some twitter traffic from Nikon enthusiasts wondering why this is all that Nikon did with the D5500.  So, what do you think?  Do these new features get you excited?